How is it possible that you can go from the desert to the cool, humid forests of La Gomera in just 25 minutes? As the sea of clouds and a very particular geological structure condition our life…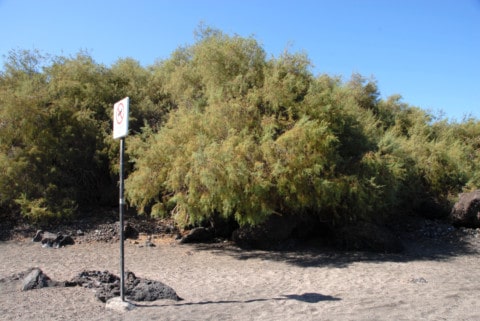 Really exemplary are the adaptations of the four plant formations that we will explore on this guided tour.
We start on the coast and inspect the vegetation of one of the few salt marshes on the island between the Charco del Cieno reserve and the embrionary "dune systems" of Playa del Inglés. Each plant shows adaptations to the high salt content of the surroundings, similar to desert plants.
From here we drive to the upper end of the valley, to Arure. Between empty water reservoirs and partly cultivated field terraces, we slowly ascend in initially still dry slopes. Fennel, pitch trefoil and sticky fleabane support the aroma determined by the mugwort, houseleeks give a visual exotic "coat".
The agricultural areas in dry field cultivation allow us a view of the local crops and their special features.
Bit by bit we reach the cloud region. Here our path leads us through partly high grown forest. The life-giving forest explains by itself its functions as cloud catcher, storage and water source. With rainfall levels (up to 1400 l/square metre) as in european low mountain ranges, the Monteverde, the mountain forest, forms here, barely 25 minutes' drive from the coast.
In the end we get picked up in Las Hayas, which is "impossible" without having tried the "fruits" of the local field cultivation …
Next trip:
By arrangement. If you are travelling with a small interested group, please contact us and we will find a date.
Duration: About 6 – 7 hours
Hiking time: about 4 hours
Meeting point: Parking lot at Playa del Inglés.
Prices: Adults 40 euros; children (up to 16) 25 euros. The number of participants is limited to 9 persons. Minimum number of participants: 4
Special prices for groups and families on request.
It is necessary to make an announcement for the corresponding event under contact.
Note: sturdy shoes are recommended. Bring some food and water! Sun protection, warm jacket and binoculars are never wrong.