Basalts, tuffs and dikes! The volcanic origin of La Gomera is known to most people. For the interested observer, the geological history is revealed at every corner.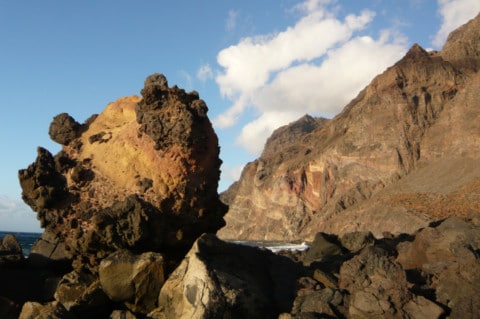 On this little trip of discovery into the earth history of La Gomera you will learn a lot of "unbelievable" things about the Canarian volcanism and how it can be felt everywhere on La Gomera today.
1. Playa del Inglés
First we take a closer look at the stones on the beach and see how volcanism is manifested and what properties are derived from the different forms of formation.
Then we look at a cross-section of the enormous cliff of La Merica, which lets us read the history of La Gomera as if we were reading an open book.
Are the waves we see capable of forming such a cliff?
2. Viewpoint "El Palmarejo"
The viewpoint opens our eyes not only to the many palm trees and characteristic field terraces that are protected in the landscape park, but also to the lava tongues stacked one on top of the other: In the deep gorge of Valle Gran Rey, individual volcanic phases of formation can be clearly distinguished.
How long does it take to form an island 3000 m high? How long until erosion grinds it down?
3. Mirador del Santo y La Mérica
A short panoramic hike opens up the view to the large surrounding area. La Palma and El Hierro in the background form the framework for the theory of the formation of the Canary Islands.  In addition, volcanic structures can be found again and again: rock passages, basalt columns, pahoehoe lava, red ferruginous tuffs and limestone nodules.
And again and again this view …
Finally, we will build a bridge to the human uses of the zone, take a closer look at the lime kilns and observe the geological wealth of the Canary Islands:
Could it be that the sense of the substantial subsidies flowing from Europe to the Canary Islands has something to do with the geological environment?
Structural details
Next dates:
By arrangement.
If you are travelling with a small interested group, contact us and we will find a date.
Duration: 6 – 7 hours
Walking time: about 3 hours
Meeting point: Parking lot at Playa del Inglés.
Prices: Adults 40 euros; children (up to 16) 25 euros. The number of participants is limited to 12 persons. Minimum number of participants: 4
Special prices for groups and families on request.
It is necessary to make an announcement for the corresponding event under contact.
Note: Sun protection, comfortable shoes, binoculars and warm clothing are recommended!